Making it as a composer
Tom Rhodes
Wednesday, April 14, 2021
Tips for navigating the often unpredictable but rewarding career of a composer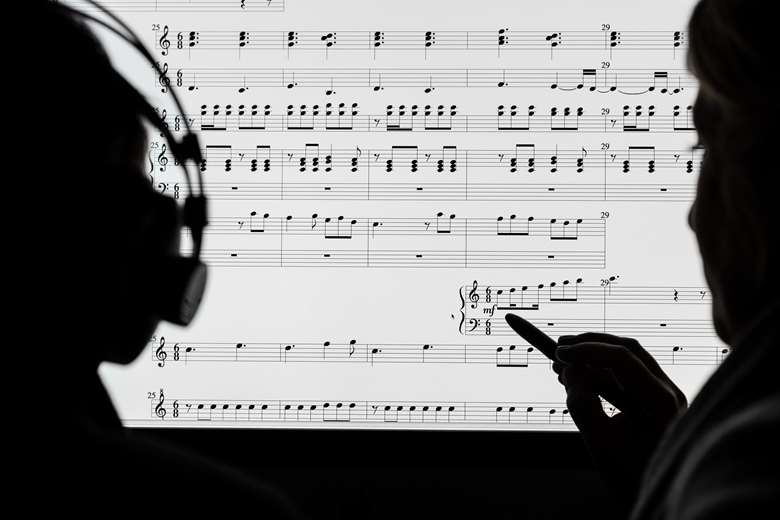 'Composing is as much a religion as a career' – the quote will ring true for many of music's creative elite, whether fresh out of college or a seasoned professional, like Judith Weir who sums up life as a composer so concisely.
Life as a composer offers unique challenges. Much like a novelist, the task of the composer involves long stretches with pencil and manuscript (or more likely Sibelius), and, of course, time and toil means money. How much is my work worth? Who'll be willing to pay me? How do I put my work out there for people to hear?
Technology has transformed the music industry, so in many ways, the ability to expose fresh music to global audiences has grown far easier. 'If you're enlightened, open to new technologies and willing to put in the effort, there are lots of avenues open to all composers,' explains Andrew Downes, former head of composition at Birmingham Conservatoire.
Setting solid foundations is the way to succeed in any career, and composition is no different. A fruitful student life can be the best way to do this, making vital connections that will stay with you as your career develops. 'In my experience, the best way to get your music played is to develop a circle of friends, whether amateur or professional, and take them around performing your music,' Downes explains.
'Always encourage them, and importantly, be nice. Harsh criticism when they're taking the time and effort to become familiar with your style and foibles is the quickest way to lose them as friends and players, and is also grossly unfair.'
Scottish composer Judith Weir, a former student of John Tavener, echoes this sentiment: 'Befriend performers. You'll learn a lot from them, and they'll play your music,' she urges. Downes explains: 'There's little point in approaching already established organisations to perform your music – they have their own agenda and circle of friends. Form your own, and take it with you.'
Thanks to digital technology, it has never been easier to record your music and send it around, particularly via the internet. Weir sees this as a real advantage for composers today and encourages its application: 'Set up a website, with sound samples if possible,' she advises. 'If your music is notated, PDFs of the score are also useful for other musicians to see online. Above all, keep your site up to date: list your performances as they come up and regularly post short news items about your musical activities. Let everyone see what a busy, lively composer/musician you are.'
Weir adds: 'If you have a score which is eligible for a competition, send it in – even if you don't win, someone may read your score or hear your recording and remember you.' This ability to sweat the asset, be it a live performance or a studio recording, enables a genuine global audience to be exposed to new music. 'When you have organised a There is no shortage of organisations willing to offer a platform and support aspiring composers Musicians' Handbook 99 Conductors and composers performance, always obtain a good recording,' says Downes, 'or if possible, have a DVD made. It's great to be able to put them (if they're good) on YouTube or Musicians Page, which has its own internet radio.'
The huge cuts to arts budgets, not to mention the huge economic toll of Covid-19, may force some to feel that the current climate paints a gloomy picture for the aspiring composer. Not so, it seems: 'You have to lose the idea that composing is about "accessing money" – it's as much a religion as a career,' argues Weir. 'The vast majority of composers support themselves by having other occupations. Spending time away from the manuscript paper and recording studio can have real benefits.'
"

Spending time away from the manuscript paper and recording studio can have real benefits
While direct funding for projects can prove hard to come by, there is no shortage of organisations willing to offer a platform and support aspiring composers. Weir advocates engagement and being proactive: 'Consider joining the British Academy of Songwriters, Composers and Authors (BASCA) or the ISM. Anyone lucky enough to live in Scotland, Ireland or Wales has a national music information centre at their disposal – get to know the people who run these places.
'Wherever you live, attend as many performances as you can – around the UK there are some great new music groups, such as BCMG (www.bcmg.org.uk) and Psappha (www.psappha.com), and turning up regularly to their gigs is a good way to get involved.'
For competitions, workshops and other performance and artist development opportunities, Weir recommends bookmarking the likes of Sound and Music, the London Sinfonietta, the London Symphony Orchestra, Aldeburgh Music (www.aldeburgh.co.uk) and The Royal Philharmonic Society.
One of the UK's latest rising stars, Helen Grime, has been fortunate enough to land some heavyweight commissions while still in her 20s – most recently by the BBC for her 'Nightsongs'. Grime's Scottish roots have also opened up new opportunities, with previous commissions from Enterprise Music Scotland (www.emusicscotland.co.uk) and the Scottish Arts Council (now Creative Scotland: www.creativescotland.com), so it's always useful to know what's available in your own region.
One of the most fruitful exercises in her early development was frequently attending the many summer schools available for composers, which can act as a platform for fresh work. She says: 'Summer courses are a great way of making more of the right people aware of your work. The Britten Pears course (www.aldeburgh.co.uk/bpp) is always excellent, and the musicians and artists that attend are all interested and committed to new music. In many ways, the ability to expose fresh music to global audiences has grown far easier.
 'The Tanglewood Festival of Contemporary Music, held in Massachusetts, has also been an extremely useful platform for my career. They accept six composers a year, along with hundreds of musicians and singers, so you make a lot of strong connections,' she adds. Since attending her first festival, Grime has won three American commissions and been invited back as a special guest at the Tanglewood festival. 'The wider the audience you expose your music to, the greater your chances of getting new commissions and forging long-term musical relationships,' Grime states.
Ultimately, commissions arise out of performances and someone's interest in your work. Until you kindle that interest, you can't make them happen, Weir insists: 'Commission rates are not standardised (the Office of Fair Trading has prevented professional organisations such as BASCA from publishing recommended rates – see BASCA's website for details: www.basca.org.uk). If you are commissioned by an organisation or musical group, they will probably be able to suggest a "market rate" – private individuals will likely tell you what they can afford.'
It might seem daunting for young composers to put a value on their work. Too little and it won't be taken seriously, too much and you risk putting off the prospective commissioner. 'There's definitely a balance that needs to be struck,' says Grime, 'but for those who are unsure, it's always best to have some guidelines in mind. BASCA set out a rough guide based on size, ensemble, duration and other variables.'
Flexibility is important too. 'I've been commissioned to do work for less and more than the guidelines,' Grime reveals. 'It all depends on who's commissioning and also how much you want it. If it's a project you're passionate about, you'll often be happy to work for slightly less, or more willing to negotiate on the fee.'
Andrew Downes agrees, but says there are always ways and means to get paid work through the door. 'It's best not to worry too much about commissions until someone asks you for a piece – then pounce – find out if they have access to funds. If not, advise them to either approach the Arts Council (www.artscouncil.org.uk) or get, say, 50 people to put £50 in, so you have a commission of £2,500. That's happened in my case lots of times, and it's good because those 50 people have a special interest in you.'
The more traditional routes of getting work commissioned are still alive and kicking: 'My own commissions usually come via a group, an orchestra or an ensemble, rather than an organisation as such,' Grime says. 'It will usually be the role of them to apply through the Arts Council or the PRS for Music Foundation (www.prsformusicfoundation.com) for funding, and they then decide what composer they wish to commission the work from.'
While much has changed and evolved, the core facts remain the same – in music you have to be proactive and explore as many avenues as you can. As Grime has shown, sometimes your work can strike a chord in a different country. Today's composers have the luxury of instant global connections and, combined with a good work ethic, should give aspiring young composers the necessary tools to make their mark.