Being 'fringe' should not be about size, but about having artistic freedom
Becca Marriott
Thursday, July 22, 2021
Becca Marriott argues the case for fringe opera, and considers its future in a post-Covid world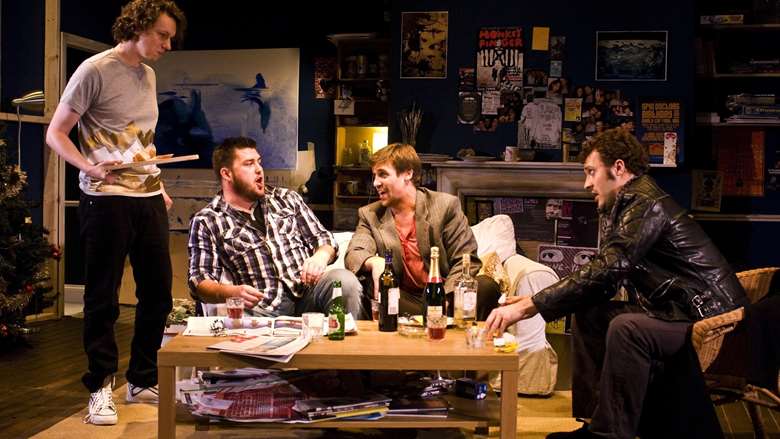 In 2011, Opera Up Close changed the face of opera in the UK with their victory at the Olivier Awards. An English La bohème birthed in a dingy pub in Kentish Town beat productions from The Royal Opera House and English National Opera. But, 10 years on, what direction is fringe opera heading in? Where should it be going?
These are the questions I asked myself when I founded my own company - The Opera Makers - about to produce our first work at the Grimeborn Festival, Hopes & Fears. This radical adaptation uses the beautiful and haunting music of Claude Debussy to tell the story of two very different women living with incurable cancer. Creating this work, and programming for the future, I wanted to be part of opera's fringe journey.
In the opera world, fringe has become synonymous with 'small'. While opera companies on the periphery will never have the financial clout of institutions such as Glyndebourne, and radically adapting opera to attract diverse new audiences often means shaving 20 minutes (read an hour for Wagner) off the score, we need to eschew the idea that all fringe opera needed to be 'tiny' and produced on a shoestring. Fringe operas should be the appropriate size for the venue they are envisaged for. This might mean a three-person cast with a cello and piano, but one of The Opera Makers' current productions (in R&D), The Clowns, calls for a ten-person ensemble and 16 singers, including a chorus. Being 'fringe' should not be about size, but about having a level of artistic freedom that larger companies struggle for, and about challenging audiences and artists alike to do and see things differently.
"

We need to eschew the idea that all fringe opera needed to be 'tiny' and produced on a shoestring

"
One way to confront the status quo is to premier new work. Since 1997, this has been the remit of the contemporary and eclectic Tête à Tête Festival, a vital platform for new work. From an electronic orchestration and puppets presenting the life of bunny boiling Gala Dali, a wrestling opera to a rock Tosca - Tête à Tête detonates and destroys any notion of operatic elitism in its quest to present the best of what's new. More new operatic writing needs to be produced. New opera needs to have runs at off-West-End venues to attract bigger, broader audiences, as longer runs can lure in more national press and media coverage. It is for companies such as The Opera Makers to take the risk of scouting and staging new, engaging pieces.
Outside of the big opera houses, small companies also need the courage and funding to be able to produce lesser known and underperformed music. Both big-name opera companies and fringe producers (without great wads of public funding) have focussed on the 'Big Five' in order to ensure good box office returns. Tosca, Bohème, Traviata, Butterfly, and Carmen do the rounds again and again. There is, however, a world of stunning music with potentially powerful narratives that should be brought to life. Pieces like Mascagni's Zanetto for example, which both Opera in the City and Barefoot Opera have chosen to produce, are ideal for the fringe. This short and rather vague opera is a hard piece for the traditional opera houses, where patrons expect three hours of entertainment, and where it is more difficult for directors to pull the score apart or present the intimacy of the opera's central relationship successfully. 
Hopes & Fears, for example, weaves together two very rarely performed (one of them never staged) Debussy cantatas - La Damoiselle élue and L'enfant prodigue. Working on the fringe gives us the freedom to cut and paste the score and adapt the libretto to create a powerful and satisfying one act drama with a meaningful narrative. In so doing we are giving new life to some truly mesmerising music that is very seldom heard. This kind of innovation is not only exciting to artists (and, in our experience funding bodies) but is a brilliant way to introduce audiences to works they have never experienced before.
Fringe opera should also reach out to artists working in different mediums, and to those whose lives and work centre around the core themes of the operas being staged. It is often easy to forget how cutting-edge opera was in the 18th century, and how politically engaged it was in the 19th - the two centuries during which opera enjoyed its heydays.
Early opera productions wowed audiences with technology - flying machines, pyrotechnics, rotating stages etc. Those working on the fringe need to be open to playing with video, light, sound, web-based interaction etc in new ways. Silent Opera have had amazing success doing so since 2013. Smaller and less traditional venues cry out for more radical and immersive theatrical approaches. We are hoping to really explore new media in our production or Turandot for which we are currently seeking funding.
Many fringe opera adaptations deal with social and political themes that underscore modern society. In order to be politically and socially engaged opera companies could form mutually beneficial relationships with charities, NGOs and excluded groups - supporting their work while gaining authenticity for their art. In 2011, The Wedding Collective worked with a chorus of refugees to create a striking new production of Menotti's The Consul at Limehouse Town Hall, enforcing the grit and the tragedy that underlies Menotti's gripping score.
In creating Hopes & Fears The Opera Makers were privileged to work with Shine Cancer Support, a charity supporting those who experience a cancer diagnosis in their 20s, 30s or 40s. The words of the people we spoke to not only heavily influenced the piece's new libretto, but their voices punctuate the score with surprising humour.
Fringe opera is still on a journey. I, for one, am excited to see the life that smaller companies can breathe into opera in a post-Covid world.
Becca Marriott is a singer, librettist and artistic director of The Opera Makers. Hopes & Fears runs at Arcola Outside as part of the Grimeborn Festival, 1-4 September. www.theoperamakers.com