Take a minute: practising improvisation
Liz Dilnot Johnson
Friday, March 26, 2021
Liz Dilnot Johnson explains how the time frame of one minute can encourage freedom of improvisation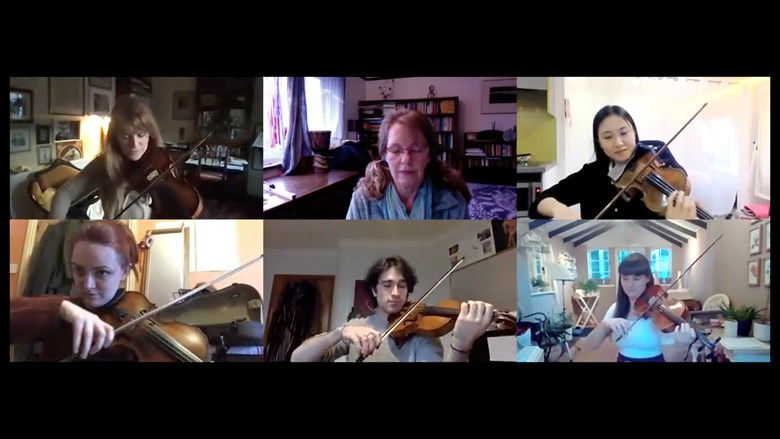 How much can you really do in one minute? Recently I've been exploring this time frame - as composer, workshop leader, meditator and as a reluctant administrator.
One of the things I love about being a composer is my relationship with the perception of time. I can make the span of three minutes stretch out so it feels timeless, or whizz the listener through thirty minutes of music that seems more like ten.
When composing or writing I often use a timer for 20 or 30 minutes to help me focus my attention. No distractions, just focus on the task in hand. This can help with anything from house work and admin to meditation and exercise, or anything that you find hard to fit into your day.
But during lockdown, like so many musicians and creatives, I have been feeling swamped by acres of what you could call 'free' time. Without deadlines - with no events, no rehearsals, no external impetus to do things - I've found this expanse of time very difficult to manage. Hours merge into days merge into weeks merge into months - and every day is Blursday. Even though I am used to self-motivating and managing my own working practice in a free-form way, this year I've found my composing mojo seriously challenged, often unable to engage in anything more than short meditative pieces and some little songs for my nephew's young family.
When we launched InsideOut Musician in December 2020 I decided to address the lethargy of lockdown both for myself and for others. In a range of creative workshops and videos I've been exploring very short time frames in which I encourage musicians briefly to 'kick away the music stand'. I understand some people's reluctance to do this. Having grown up as a musician who could only play from notation, the thought of 'improvising' terrified me until my mid-30s. Since I finally broke out of that mould I have developed a passion for liberating others from this straight jacket. I delight in seeing people discover that they can in fact do it too, given the right support and using short time frames.
So why does this work? In one minute, the internal judging voice so many of us experience hardly has time to register.  And with instant supportive feedback from me and the others in the online group each person finds themselves having been creative, almost without noticing.
'There was no time to procrastinate, waiting for inspiration or the perfect idea ... I was excited to discover what could emerge from something small.' Sara Rance (amateur)
'Being given minutes to come up with my own cohesive ideas has gifted me the opportunity to see that … I carry a boundless wealth of expression within me, which as it turns out is just asking to be released into the world.' Kasia Ziminska (professional)
In my Zoom workshops 'Ways In To Improvising' - after an initial physical warm up - I outline a creative task. Once everyone is clear about what to do, everyone mutes, I set the timer on my mobile for one minute and I move away from the screen, stretch, refill my water glass, or just observe each individual instantly engaging with their instrument or voice. Each task is designed to be achievable in a minute.
'Thinking of bird song; drawing a picture freely; recomposing a familiar melody all make it much easier for me to improvise and surprisingly one minute doesn't make me feel stressed.' Jin Ma (research student)
'The short timescale meant a relatively short fragment of music but that fragment received a lot of thought and care. Also it made me focus on the overall "sound" made on the accordion rather than just the melody line.' Andrew Rothery (amateur)
The success of this strategy surprised me, although maybe it shouldn't. Some time ago I encountered the 1980s book The One Minute Teacher which outlines how powerful one minute of focused thinking can be. The key seems to be to have one very clear stimulus before the minute starts. This can take different forms. Sometimes I lead a physical activity where we just shake and wobble our bodies - hands, arms, shoulders, legs, torso, everything - and then I set the one minute task of capturing some element of that 'shaking energy' in a musical idea. In this activity there is no 'right' or 'wrong' way to respond, each musician finds their own way of expressing themselves.
'[It's] a fantastic way to encourage performers to get more creative, providing an accessible starting point which is not so long as to be intimidating but long enough to explore an idea.' Nina Kümin (research student)
'The seed that is created when you don't have too long to question yourself is very visceral and authentic.' David Lopez (professional)
I've now created a series of playful one minute creative challenges - take a minute and see what you can do! And I've started using this time frame in other ways. In my creative discussion group Taking The Plunge I start each session with a short meditation. Here are some you can try:
Spend one minute imagining:
A sensory feast to enrich all your senses
Receiving applause from a stadium full of true admirers
A valiant dragon who is your friend and ally
Being the water in a clear, fast-flowing stream
Accepting an award for being the best
As an experiment for writing this article I decided to set my timer for a 'minute per section' of a lengthy funding application form. I just wrote what I could in one minute, took a couple of deep breaths, reset the timer and moved onto the next bit without looking back, thinking or judging. Within half an hour I had made a start with the entire application. This is quite different to my normal approach and I was pretty amazed at how easy it was, and how effectively it got me over that first hurdle.
Even one minute can act as springboard, helping you take the first step. Once you have taken that step you're on your way forwards.
Join Liz and the team at insideoutmusician.com to discover a whole range of life-affirming and stimulating courses for musicians - from amateur to professional - for individuals and in groups:
Ruth Phillips - Let Bach Live The Zen Practise Room Limber Up! Mindful Modes
Lucy Russell - Struggle-Free Zone Stylus Fantasticus Be HIP - Style Matters! Storytelling with the Bow
Sophie Renshaw - The Paradox of Practice Historical Awareness - Get Stylish!
Mairi Campbell - Slow Session Voice and InterPlay Fiddle Class
Liz Dilnot Johnson - Ways Into Improvising Taking the Plunge Create, Co-muse, Compose