From jazz to opera: an interview with Guy Barker
Jon Tolansky
Wednesday, September 29, 2021
Guy Barker has enjoyed a successful career as a jazz musician, but has more recently turned his attention to opera. Jon Tolansky finds out more about his latest project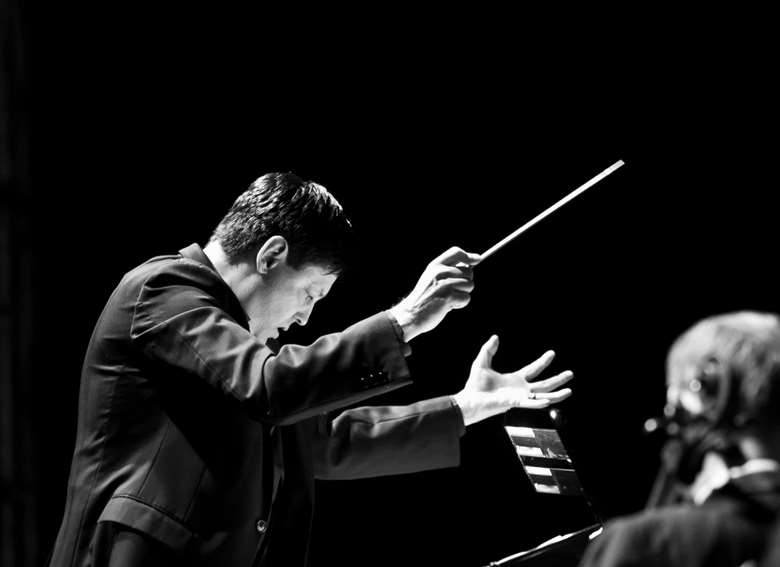 'It was actually two great jazz musicians, Gil Evans and Roger Kellaway, who guided me to the music of Honegger.'
Award winning jazz trumpeter, composer, arranger, and conductor Guy Barker, cites that as a major re-awakening point in his life some years ago.  Re-awakening because this remarkable maverick artist who returns to the Royal Albert Hall this Christmas for the sixth of his extremely popular Guy Barker's Big Band Christmas nights is in fact emotionally and culturally as deeply rooted in European classical music, especially of the 20th century, as he is in the great American jazz heritage that inspired him to become one of the world's most creative and globally sought after jazz performers and composers. 
While at the height of a prodigious whirlwind career in jazz, gaining the highest plaudits from his boyhood idols such as Dizzy Gillespie, Ornette Coleman, Carla Bley, and Quincy Jones, his Honegger experience hearing the Largo for Strings ignited a reconnection to his young passions for composers such as Stravinsky, Berg (he had been overwhelmed by Wozzeck when he was just 16 years old), Bartok, and Webern, and it was the catalyst for a new classical music phase in his life that has recently intensified and brought forth highly lauded new creations. 
His colourful Soho Symphony, inspired by formative memories of Soho's vibrant musical life; his elegiac Violin Concerto; his dramatic trumpet concerto The Lanterne of Light, a radically individual depiction of the Seven Deadly Sins – these have revealed a versatile classical composer of fertile imagination and craftsmanship. Having recently written no less than three further concertos – for guitar, for cello, and for clarinet – now he is starting work on an opera, and in this he is collaborating very closely with an artist who has written librettos for him on several very different occasions: novelist Robert Ryan.
'Guy has always been very interested in narrative in music,' he tells us. 'Back in 2007 we worked together on his dZf, a kind of film noir/jazz reworking of characters from Mozart's The Magic Flute though without actually quoting a note of Mozart's music, and then we collaborated on a large scale commission Guy received from the Aldeburgh Festival for the Britten centenary in 2013. For this we felt we could be ambitious and have narration as well as jazz vocals, a big band and a symphony orchestra.'
Guy explains how That Obscure Hurt came to life: 'This was my first foray into a kind of operatic subject, though not yet a full opera. I would call That Obscure Hurt a music theatre suite living on several dimensions. We knew how immersed Britten was in the work of Henry James, and we came up with the fantasy idea that had he lived he might have written a third opera on one of James' subjects, so following on from The Turn of the Screw and Owen Wingrave. Rob suggested we make an adaptation of James' ghost story The Jolly Corner, in which a New Yorker returns to his city after 33 years, and as he looks around the house where he grew up, which is now totally empty, he has some very weird experiences.'
Rob continues: 'It's about a man haunting himself, really, but we decided to transpose the scene to a jazz club in Soho, so that now we had an ex-pat businessman coming back to London to sell his jazz club, but he is stopped in his tracks by meeting the ghost of his former self there.  In addition to this, Guy himself interpolated dramaturgical themes he wanted to explore.'
Guy explains: 'I was always fascinated how British jazz musicians in the 1950s and 1960s took work on ocean liner bands so that they could go to New York and see their idols in the clubs over there.  So, travelling around in time again, there's a prologue set in New York, and it was then that I started hearing the sounds of jazz vocals in my mind, and specifically one of the great artists of our time Kurt Elling. And now I felt we needed narration too, so another great artist, Janie Dee, took the part of a narrator.  So what had started out as a work just for orchestra and big band was now much more of a music theatre piece.'
The phantasmagorical ambience is ingeniously suggested by Barker in his subtly symbolic co-mingling of unrelated classical and jazz elements, and the new theatrical dimension that evolved in his consciousness while the composition began to take shape was a sign of things to come – an opera, with Rob Ryan as librettist and close co-developer.   
'A few years ago I had wanted to do a piece with Rob that was on the psychological edge,' Guy explains, 'and Rob made out a story for me that was bizarre, somewhat in the style of the American sci-fi tv series The Twilight Zone. Meanwhile, I discovered a novel by Jack Kerouac and William S Burroughs: And the Hippos were Boiled in their Tanks – and the title aroused my imagination for a setting. When I read it I couldn't find a substance that triggered me so I gave it to Rob – and after just a few days he'd written a story for me that was inspired by a situation that happens in the book, and it set me alight with ideas that began to take me into new territories. Originally I was thinking of a work along the lines of That Obscure Hurt – so, an orchestra, big band, vocalists and narrator – but as music started to come to me I quickly realised that this is an opera which casts very different kinds of voices from different worlds: jazz, classical song, and opera singers.'
"

As music started to come to me I quickly realised that this is an opera which casts very different kinds of voices from different worlds: jazz, classical song, and opera singers
Once again, it is the subject's environment and characters that have determined Guy's choice of styles and performers. The action opens in a bar in 1940s America where two people overhear a radio news broadcast with the reporter sobbing as he watches the horrific scene of a circus burning in flames – and he cries out, 'And the Hippos were Boiled in their Tanks'. 
'This event actually did happen in Connecticut,' explains Guy (22 years later Kerouac claimed it had occurred in London, but the original scenario of Connecticut is now believed to be correct). 'It was arson – a man who worked at the circus was convinced the devil was telling him to set in on fire as it was evil. There were incredible feats of heroism by circus workers saving lives and also identifying the many burned bodies. All the victims were identified bar one – a little girl of around nine years old: her identity remains unknown to this day.'
'The more I looked into this bizarre event, the stranger it became,' adds Rob. 'There was a detective who was determined to identify the child, but he never did. The opera starts with this detective retiring from his position, but then going back to the site of the fire and searching for the girl's identity.'
'Rob has made a very strong storyline by placing the detective as the central character,' Guy continues. 'Each year he lays flowers on the girl's grave. We are portraying his story against the backdrop of the amazing circus where the tragedy took place. Circuses in the 1940s were very different to how they are now: they had freak shows, like an act where a woman with no arms and legs would knit sweaters and scarves. So it's a really dramatic subject, and that's why it is now an opera. I'll just give one twist away right now: actually there were no hippos in the circus – the reporter had got carried away. And that's how the opera will end.'
48 years have passed since Guy Barker was first stunned by opera when he saw Berg's Wozzeck at the Royal Opera House Covent Garden. The fruits of his reconnection to the genre are eagerly awaited.