'Festivals do not seem to deserve the same consideration as Euro 2020': East Neuk Festival director on the challenges of the last year
Svend McEwan-Brown
Tuesday, June 29, 2021
Scotland's East Neuk Festival is preparing to launch in a few days' time - but it hasn't been an easy journey...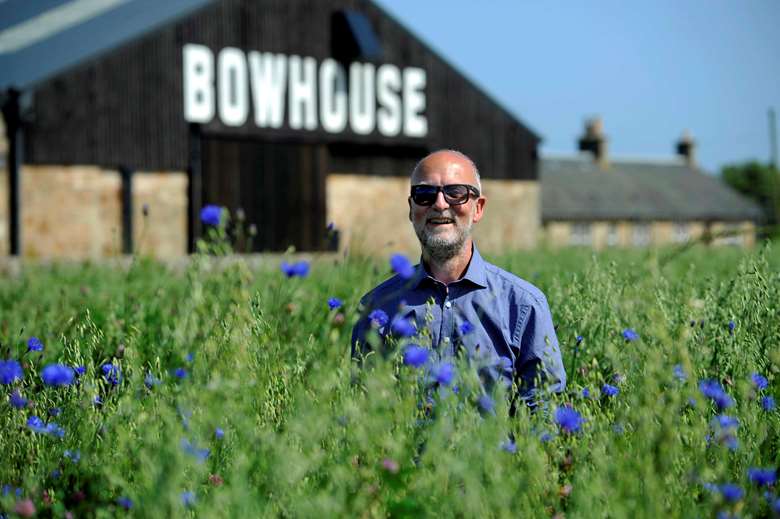 I guess there are very few of us who work in the arts who would not agree that the past 15 months have been among the most stressful and exhausting in their experience. Yet, unbelievably it seems to me, I am days away from the first public events of East Neuk Festival 2021 – our first in two years. Looking back at the efforts required to get here remind me of nothing so much as two children's games.
Pin the Tail on the Donkey, with the twist that the donkey is in fact alive and kicking and damn furious too. As each twist and turn of the developing crisis prompted changes in regulations, we tried to pin down plans according to our surest speculation as to how things would play out. Usually, our festival planning grid goes through 16 to 19 iterations before it reaches its (mostly) final shape. So far, this year's grid has undergone 36 iterations, and some of those 36 contained four or five alternative scenarios each. Playing this game has had one big impact, which is waste. Waste of ideas, waste of time, opportunity, money, talent. In a normal year, I estimate that I personally work around 550 hours to achieve what I need to do for ENF to happen: curating, planning, fundraising, marketing and attending. As we usually stage around 30 events each year, that works out at something like 18 hours per event. This year we still have around 30 (though they are very different from any previous ENF) but I conservatively estimate that they have taken me well over double the normal hours so far. Multiply that by the whole team and I shudder to think what these 30 events have cost us in hours, patience and resilience.
Snakes and Ladders. Best illustrated by us trying to continue our work supporting young artists through our artist development programme, the ENF Retreat. This is primarily about creative development, so doesn't need a live audience. Big ladder! We could even share aspects of it online to help us connect with the audience that we had disappointed during the summer. Even bigger ladder! We set to. We needed to convene two week-long residencies, six musicians in two venues, a bit of tech, and all the usual travel, accommodation, and so on. Child's play for a producer as experienced as ours. But then the snakes raised their ugly heads. Three of the six musicians reside outside of the UK. A fourth musician got Covid panic and refused to travel anywhere.
As red lists and quarantine regulations kicked in, it soon became clear that neither residency could go ahead with the original personnel. First snake. We thought laterally, called colleagues to explore all kinds of options including relocating lock, stock and barrel to a different country whose Covid regulations would allow the musicians to get together. Colleagues were wonderfully supportive, yet every time a solution was found, we landed on another snake. In the end, we did go ahead and two musicians have laid ground work for future projects, and the outcomes will be seen at ENF this year and next, so ultimately I guess we beat the snakes: but the costs, and the impact on morale and resource are all powerful negatives.
It is inevitable that we dwell on challenges at this time, and the unfairness of officialdom's behaviour. The mere fact that as festivals are not football tournaments - so do not seem to deserve the same flexibility and consideration as Euro 2020 - is galling. But many good things have come out of this past 15 months, and they may help save us in the future. We have been compelled to explore ways of reaching audiences that have been in the air for decades, but like many others, we have not engaged deeply enough with them to see how and if they worked. This year, around 30% of ENF happens online. We tested what we could do back in November by posting short videos. Even with the limited marketing we could afford to devote for them at that point, they reached viewers across the globe and in numbers far greater than our venues could hold. It was inspiring to take the spirit of our festival to new ears and eyes.
This year 40% of ENF is outdoor, pop-up, drop-in. For such a relaxed and informal sounding idea this is very challenging to produce. Needless to say, the kinds of music which suit these presentations are not our typical chamber music; and issues of weather, licensing and logistics complicate things further. But while our online work is hopefully spreading the word internationally, these events could deepen our connections locally. Nobody needs to buy a ticket, turn up at a particular time or even mean to listen to any live music – they just have to be in the East Neuk and nearby one of our performances, and hopefully we will make their day that little bit brighter. We are treating both online and on the ground as testers for future years, aiming to learn how we might continue to transform the festival and the way that we do it next year. The single biggest challenge is how to generate income effectively from either approach.
The crisis has brought out the best and the less admirable in people. One thing we will do after the ENF this year is to have a vote on who, among all the people we have worked with to make this year happen, was the most wonderful to deal with, and send them a bottle of champagne. Many have talked language of, 'We're all in this together', but then behaved poorly. But I prefer to remember and be thankful for all those who have supported us and helped make ENF 2021 happen. As I'm sure it will. In just a few days.
The 2021 East Neuk Festival takes place Thursday to Sunday (1-4 July) featuring indoor concerts, al fresco performances, pop-up events, digital performance, and art installations in the East Neuk of Fife in Scotland. Digital 'festival visits' including performances by oud player Rihab Azar, violinist Benjamin Baker, Castalian Quartet, guitarist Sean Shibe, The Tallis Scholars, and pianist Llŷr Williams will also be released daily throughout the festival at eastneukfestival.com.