'Airbnb for rehearsal spaces? That sounds amazing': Inside Tutti
Toby Deller
Monday, August 23, 2021
Thanks to Tutti, rehearsal space can be found at the touch of a button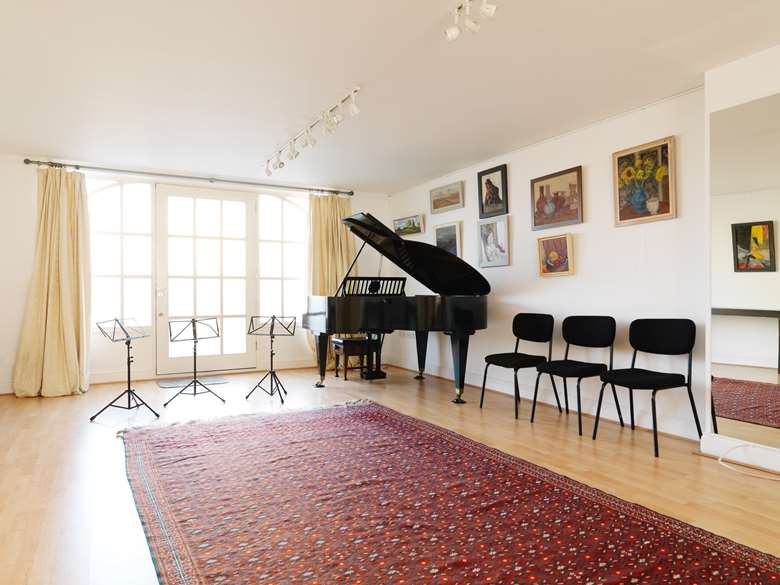 Please note that this article was first published in Classical Music in May 2019.
The trouble with music is the noise it makes. It is, at least, if you are a musician in a room with thin walls and an unsympathetic neighbour. Then there's the fact that it often requires several people, who may not all fit into the available room for rehearsals or not live within easy reach of each other.
These are some of the situations in which Tutti, a website advertising rehearsal spaces to musicians that launched at the end of 2018, may be able to help. The principle is straightforward: a booking website with a geographical search function and various music-related filters allowing musicians to search for rehearsal spaces appropriate to their needs. Venues set their own prices, musicians pay per booking and Tutti takes a 15% commission off each booking made through the site.
In short, it is an 'Airbnb for rehearsal space', in the words of founder Gabriel Isserlis. 'You can find private homes, you can find public spaces – we've had our first two churches listed – you can find professional studios. I'm in talks with different organisations to get professional grassroots venues on there. Any sort of venue in the existing market of rehearsal spaces, as well as a new market of places that didn't think they could be rehearsal spaces but could be, are going to be on there.'
The simplicity of the process will, he figures, be one incentive for people to use it. 'We hope that the musicians will rather use that than use the rather antiquated and slow systems of individual places. We will also be offering insurance to those venues that don't have insurance covering this kind of use: if they go round us, no insurance. There will also be – not yet but eventually – loyalty rewards. I've just bought this coffee with a loyalty card: if you make, say, ten bookings you might get a certain percentage off.' While there are other set-ups offering similar services, Isserlis says they tend to focus on event bookings rather than rehearsals. He is confident that Tutti is sufficiently different and tailored to the purpose. 'There's a lot of different services that offer part of what we want to do. There's one service which offers the ability to search for pianos in rooms – just pianos, nothing else. There's one that offers the ability to find just professional studios, but no churches or private homes. There's one that offers just churches. And then there's one other service that's based in mainland Europe that offers currently the same service as us but as soon as we develop our app, which hopefully will be in the next four months or so, we will offer so many different benefits.
"

You can find private homes, you can find public spaces – we've had our first two churches listed – you can find professional studios
Certainly the idea seems an obvious one, so why is Isserlis the person to put it into action? 'My family have been musicians for generations, most of them professional, so when I was young I travelled around with my dad a lot and heard a lot of different musicians complain about a lot of different things. I'm also an amateur cellist myself so I've kind of experienced various problems too. I went to university to study IT and when I left I decided to combine the two. I came up with a number of different ideas but there was one that really clicked with a lot of people that I asked about it: Airbnb for rehearsal spaces? That sounds amazing.'
Isserlis explains, however, that the idea evolved (and, having launched, is still evolving) out of something more ambitious in mind that he describes as a music ecosystem. 'I worked on trying to get that off the ground for about a year and a half but it didn't really go anywhere. I almost gave up but in January last year I got accepted to an incubator that takes people with ideas and turns them into entrepreneurs called the Founder Institute. They said: great ideas but there's too many of them; you're not going to be able to start it; focus on one. Since the best feedback I got was for this idea, I settled on this one and that programme helped me figure out how to go about doing it.'
One thing he has not done early on in the process has been to bring in investors. 'Investors in the marketplace for something like this are much more willing to open their wallets if there's a proven model – if someone has passed the "mum test", which is when someone other than your mum has bought the product. So, has proven that it works, got real users on board, got real money through the door – even if it's £50. It shows that people are interested in buying the product.'
Setting up the business was a learning curve for Isserlis, despite his background in tech and music. 'I'm a solo founder and starting a company is bloody hard,' he reflects. 'I knew I would need to learn some business, I knew I would need to learn some marketing. I'm learning things about economics that I never thought I'd consider learning. The music side of things I feel quite steady on because of my background, but everything else – marketing, sales, business, development, design, writing, how to convey ideas simply… there are so many things I've been learning in the last year and a half.'
Now that Tutti is up and running, however, a next step will be to expand his workforce. On a more informal level, he talks about offering benefits to musicians using the service in exchange for help promoting it. But as he adds to his current five part-time employees, he wants to recruit in such a way as to avoid the toxic culture he sees in other start-ups.
'There are ways of creating a culture that are pretty fantastic: you hire people who have the values of the culture you want to create. Most people I hire early on will most probably not be rigidly to an exact skill. It will be someone who loves learning, loves creating and loves passing that on, sharing with others. And then have a flexible intelligence that can be applied to all sorts of different things.'