4 tips for returning to performance
Monday, June 7, 2021
With concert halls open once again, many musicians will be returning to regular performances. Here are our four tips for making sure it goes as smoothly as possible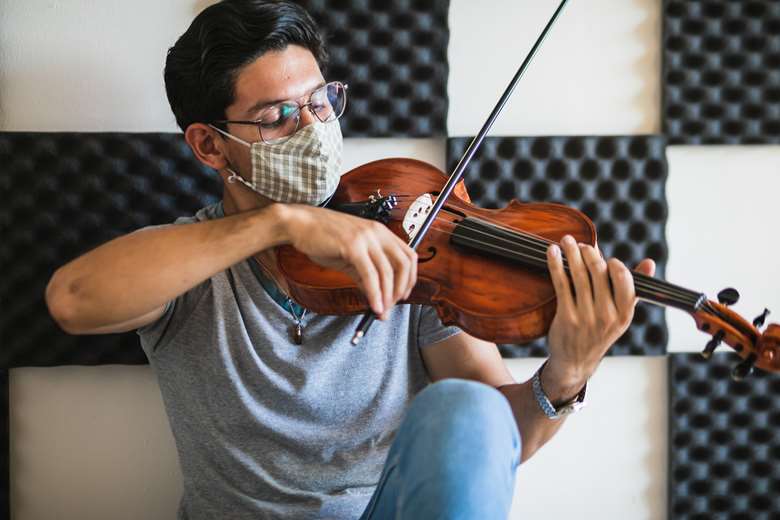 1. Plan ahead
Venues around the country have had to adapt to Covid safety regulations, meaning that some might not operate in the same way now that they did before the pandemic. Familiarise yourself with that venue's regulations, so that nothing comes as a surprise on the day of the performance. Remember to consider whether or not amplification will be needed - your audience will be more spread out because of social distancing. Don't forget your masks, hand sanitizer, and your own bottled water, in case the venue isn't able to provide any. 
Keep an eye on national Covid regulations, and what they mean for performances of any kind. The Musicians' Union have produced a summary of these here. 
2. Focus on your core
Your body will need to adapt slowly to a busy concert schedule, and pushing it too far early on may increase your risk of injury. Develop a good routine for strengthening your core and improving your posture. Home workout videos, yoga, and pilates are all good options; and even just 10 minutes a day will work wonders.
Read more: (Don't) Sit Up Straight!: What musicians get wrong about posture
Read more: Setbacks and steadfastness: the impact of injury on musicians
3. Find a balance
Many musicians will have diversified their careers over the last year. Whether it's teaching, performing online, composing, arranging, blogging, try not to let these fall by the wayside as performing returns. As 2020 showed, you never know what might be round the corner, and while things are starting to open up, that's no guarantee they'll stay that way. 
Read more: Leon Bosch: 'Against the odds I've felt optimistic for the ultimate future of music'
4. Explore new ways of giving concerts
The pandemic has shaken up the rulebook when it comes to giving concerts. With no intervals and shorter concert durations, many are reimagining what it means to perform live. New models for concert-giving are springing up around the country. In Oxford, SmorgasChord is embracing the short, sweet and varied, privileging a relaxed atmosphere. In London, noisenights are inspired by London's jazz venues and feature two identical 45-60 minute classical sets. Think about how you can make the best of smaller audiences sizes, social distancing, time constraints. It might be different, and not what you're used to, but that doesn't mean it has to be diminished.