Artist Managers: Rayfield Allied on weathering the pandemic and introducing the company's publishing wing
Andrew Green
Tuesday, November 9, 2021
Andrew Green talks to Ben Rayfield ten years after he bought out the business, discussing the impact of the pandemic as well as his future plans.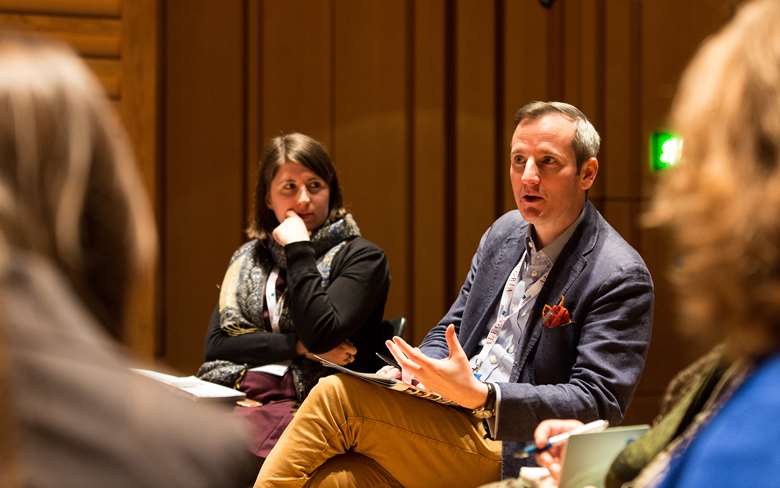 In the early years of the new millennium Andrew Rosner and business partner Robert Slotover decided to take steps to safeguard the future of their Allied Artists management company. Rosner reflects that this decision 'turned out incredibly well'. He adds: 'Robert and I weren't getting any younger and were well aware that businesses like ours can simply die when their owners retire. We looked around for someone with whom we might form some kind of partnership, talked to quite a number of people, and eventually had extended discussions with Ben Rayfield, who ran his own company.'
Rayfield brought a different perspective to the company: 'Andrew and Robert wanted to slowly wind down,' he recalls, 'while I wanted to wind up […] to grow my business in various fields. So joining forces was a natural fit.' 29 November 2021 marks the tenth anniversary of the moment when Rayfield bought out the business the three men had assembled, with Rosner and Slotover retained as consultants. The partnership had progressed over the years from an initial 'trial association', which saw the separate companies sharing office space, to a merger. Since then, Rayfield Allied has gone from strength to strength, with an impressive roster across vocal, instrumental and conducting fields while embracing a range of genres, including world music.
Thanks to Covid, that tenth birthday arrives with the music industry atmosphere still clouded in uncertainty. However, Rayfield has remained remarkably upbeat through the crisis. Staffing levels in this medium-sized business remain exactly what they were before the pandemic struck. 'We didn't want to come out of this situation limping like wounded soldiers,' observes Rayfield. 'My commitment was to not make anyone redundant. We don't have huge overheads. We own our property, at lower costs than rental would involve. Part of our space has been sub-let. Furlough payments were important, of course, and our bid for support from the Arts Council's Cultural Recovery Fund was successful.'
He concedes that 'there was still a need to temporarily reduce salaries — 80% of our income was lost overnight at the start of the pandemic — but the staff have been amazingly understanding about this. The bottom line was that the artists needed our support more than ever — dealing with cancellations and re-bookings, handling all the post-Brexit visa difficulties […] simply being available to talk to individual musicians about how they were coping.'
However, Rayfield's leadership has been about more than crisis management. 'We had to be proactive and take a dynamic approach,' he says. The company's roster has been enhanced with the recent appointment of artist manager Nicki Wenham, who joins Simon Goldstone as Director. With the amicable agreement of her former employer, she brings with her the stable of artists she managed in her previous position at Maxine Robertson Management. 'Rayfield Allied is the right size as far as I'm concerned,' Wenham reckons. 'Not so big that you feel lost, not so small that you don't have colleagues around you to help with advice and to share information. There's a sense that that we all can add something to each other's effectiveness.'
Also eye-catching is Rayfield's decision to make this significant birthday the moment to launch a music publishing wing, building on the remarkable legacy constructed over many years by Rosner and Slotover of managing major and emerging composer talents — a mind-boggling range of names including the likes of Stockhausen, Berio, Ligeti, Birtwistle and Steve Reich. The initial commitment is to publish the work of several young composers on the company's roster — including recent RPS Award winner Laura Bowler. As for the look of the new imprint, we're promised something colourful and striking which is nonetheless designed with longevity in mind.
'It seemed there was a gap in the market,' Rayfield observes. 'We've always been happy to work with major publishing houses in connection with particular composers we represent. But there's often a reluctance on the part of publishers to take emerging talent on board. And if they do make signings, it's at quite high cost — the composer has to surrender 50% of all proceeds, copyright resting with the publisher. Rather than have the publishing side of these three composers' careers dealt with in a piecemeal fashion, it made sense for everything to come under one roof. Under our system, the composers concerned will retain the copyright to their music […] and pay much less commission.' That commission will be deducted from fees generated in the hiring and selling of performing materials, as well as such sources as royalties and grand rights (in the case of staged works).
Working alongside Rayfield on this new initiative is the long-serving Ralph Blackbourn, a specialist in managing composers since Allied Artists days. The creation of the new publishing dimension to his work means, he says, that 'I can now be engaged with these composers across the whole process, not just from the creation of the work through to premiere — where we're involved already — but beyond that, to ensure the music has the long life it deserves. Quite a few composers aren't happy handling the administrative side to what they do, which is where we come in. All of the initial composers are at similar stages in their careers, enjoying increasingly high profiles and winning commissions at a really exciting level.'
Composer Laura Bowler says the relationship with Rayfield Allied means 'there's a sense of someone being on your side in every negotiation, every road bump and every panicked moment. The new publishing model makes the whole relationship even more affirming. It's an opportunity to not just focus on the hard work ahead, but to not forget the journey that's gone before.'
Optimism is therefore in good supply as Rayfield Allied embarks on a second decade. 'It was vital for us to be ready to move ahead on our artists' behalf when the music scene began to open up again,' says Rayfield. 'We're now back pretty much to full productivity.' Going forward, new thinking has invaded the company mindset, says Nicki Wenham. 'The Covid situation meant that, in keeping with our artists, we've had to be more creative, to think about what will really make them stand out.'
One game-changer has been the shift to video links for business meetings with representatives of performing organisations around the world. 'I don't want to go back to the same level of international travelling I was undertaking before Covid,' says Wenham. 'It's amazing what can be achieved in a half-hour meeting over Zoom […] and just think of all the money and air miles this saves.'