Recording an album in the age of coronavirus
Gregory Harrington
Friday, October 30, 2020
Four tips for making an album from violinist Gregory Harrington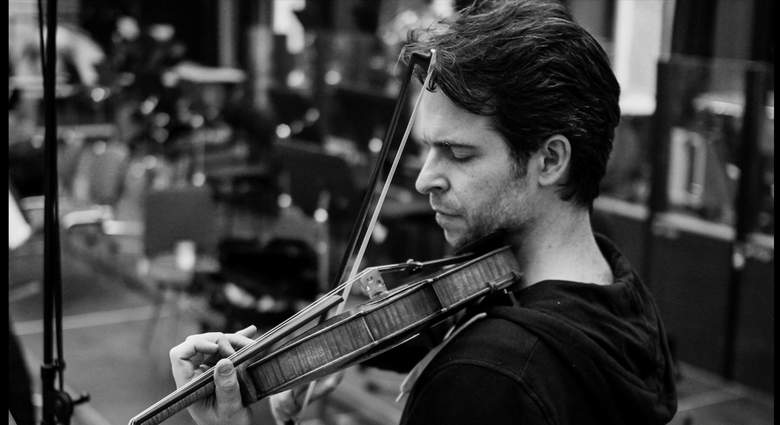 As musicians around the world (and particularly from where I write in New York City), we all hold the common and undeniably unifying trait that we emote and we feel. Since the start of the pandemic, we have deeply felt the loss of performing in concert halls and venues, whether it's a local or international stage. Most of all, we have missed that which feeds us most – our ability to communicate with our audiences.  An opportunist realises where opportunity knocks and as musicians in all genres navigating this new world, we have encompassed gaining new skill sets as writers, arrangers and recording engineers – the list goes on. We are fast becoming content and music producers in order to stay in front of our audiences. Never has the term sink or swim seemed so relevant than when it comes to keeping our heads above water during this pandemic.
So, in these uncertain times, the question that remains in the forefront of all our minds is: how do we stay and remain relevant? How do we create in a world that seems already over-saturated by Zoom and WebX and present something fresh in a way that grows our connection to our audiences? It seems that the adversity we face with this pandemic has also presented an opportunity. There has never been a better time to take a risk, explore your own artistic voice without the same job expectations or rehearsal restrictions. 
In releasing my new album Glass Hour (the works for violin and orchestra of Philip Glass) on 9 November, the challenge of how to keep in front of your audience when the traditional audience isn't accessible during the pandemic seemed tantamount to address. How does one release an album successfully when post-concert sales are non-existent and success is now determined in a digital world?
We recorded Glass Hour under the nuanced direction of Mark Shapiro and the Janacek Philharmonic and it includes a premiere of a new work and arrangement that I wrote called 'The Hours Suite' based on the movie of similar title. Citing the album as an example, I developed some tips to consider when taking any musical project from start to finish and would like to share some ideas to keep in mind as you create, write, arrange and produce.
1)    Know what you love to play and create
When you are creating content for the digital public, always start with an understanding of what makes you unique and what you love to play. When I conceived the album, I wanted to record the Glass Violin Concerto No 2 'The American Four Seasons'. I felt so strongly about having something to say that was different from the interpretations that were out there. The most important subsequent question was how do I put my unique stamp on this album and what is it that I love to do in order to get that answer? As someone who has loved the challenge of writing violin arrangements for the concert stage for well over a decade and having studied with Erick Friedman – pupil of Heifetz and Milstein – I wanted to write and arrange a suite of music that not only resonated with me and with music that I loved, but was also a throwback to the 19-century virtuoso violin transcriptions of the Heifetz and Milstein era. Staying faithful to the harmonic structure of the music but inventive in crafting a virtuoso violin line over supportive and intertwined string and orchestral lines was a project that I loved creating. In essence, find the emotional connection to the project as that passion will drive you.
2)   Know what the audience loves to hear
As musicians, we rarely think in terms of metrics or audience numbers but now more than ever, we have the opportunity to reach our audience on our own and without having to rely on being on an established concert series. Whether it is small or large-scale content, it helps to figure out where the audience is that are open to listening to you and what you give to them – in other words what is your value proposition? What value do you add to their listening process? Once you know this you can harness your network and grow your fan base. It can be something as small as the intimacy of a private inclusive livestream performance for four people or a larger scale pre-recorded performance where you invite personal donors to experience the viewing experience with you.
Give your audience a peek behind the curtain into the artist mindset while the performance takes place. With the 'Hours Suite', releasing a world premier recording of an iconic composer's work has its benefit. With the absence of a full orchestra, fundraising for a small-scale livestream release performance by hiring a small string orchestra and studio brings the intimacy of a symphonic hall into the home of your digital audience.
3)   Bank and invest your creativity now
There has never been a better time to explore your creative output. You, and you alone, are in control of your life and career. Honing skills you rely on most is one of the best ways to invest in yourself. These can be skills ranging from learning orchestration, conducting or arranging to learning how to produce content in Sibelius, Finale, Logic or Pro Tools. In producing Glass Hour, I took conducting and orchestration classes at Juilliard to better understand that relationship between soloist, conductor and orchestra, as well as writing and copywriting parts so that the recording process went seamlessly. When it comes to your own project, think of that new skill you would like to polish and incorporate into your work, then bank on your creativity to stay ahead of the curve to remain relevant.
4)   Don't be afraid to fail
And finally, don't be afraid to fail – if the New York Times are not reviewing, then take a risk and learn about you and how you evolve from pushing your boundaries on the digital stage.  In your first attempt, you only learn from version 1.0. Version 2.0 will be the improvement! Realise that the worst-case scenario may not actually be that bad. Recognising this can only help. Classical musicians have been programmed to be so critical in order to improve so learn to think more positively – it builds self-confidence and breeds success, as well as more positive decision making.
Success is believing you can. If you believe you can, you will succeed. So, take a risk, create a project, put it out in the world and give the audience something that they are craving.
Gregory Harrington is a concert soloist based in New York City and a speaker on the music industry. Sign up on his website gregoryharrington.com and download his new album Glass Hour on Bandcamp. To connect and continue the conversation feel free to reach out to him at greg@gregoryharrington.com or follow him on IG @harringtonviolin