Local heroes: musicians in the community
Stephen Pritchard
Tuesday, February 2, 2021
Stephen Pritchard speaks to members of enSEmble26 about the value of turning to the local community in lockdown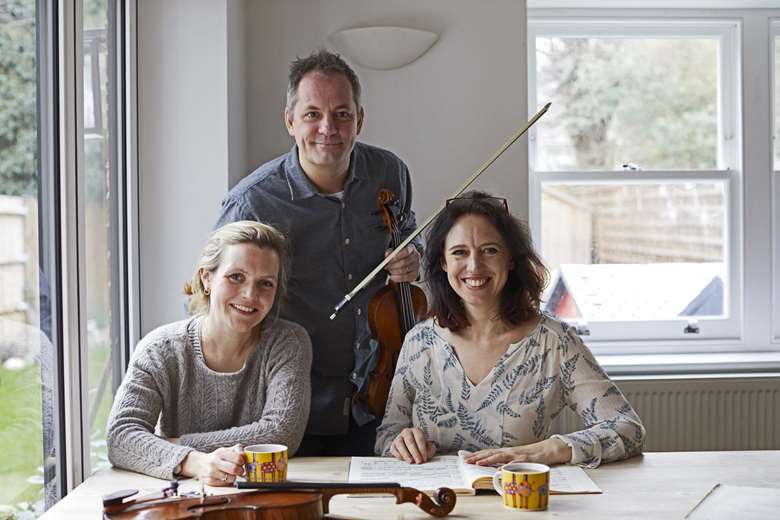 Musicians, wearied by a year of pandemic, might ask themselves if there are any lessons for the future to be learned from Covid-19 lockdowns. One answer might be this: keep it local. As concert halls and opera houses lie empty and foreign tours become a fond memory, some feel that connecting with those in their own neighbourhood offers a positive way to maintain technique and repertoire while making a modest but welcome contribution to shrinking bank balances.
How times change. Last February, pianist and soprano Eleanor Meynell was performing with the Monteverdi Choir at Carnegie Hall, New York. Since then, Covid has forced her and her married near-neighbours, violinists Ellie Fagg and Tom Norris, to restrict their touring to their patch of south-east London, around the SE26 postcode. When three years ago they established enSEmble26, a flexible chamber group offering high-standard concerts in the local area, they couldn't have imagined its importance to a music-hungry local community in a time of lockdown.
Norris is co-principal second violinist with the London Symphony Orchestra and Fagg a busy freelance player with the LSO. When the pandemic struck, everything else in their professional lives came to a screeching halt, but enSEmble26 carried on, videoing concerts in their regular venue, the Covid-secure St John the Evangelist Church, Upper Norwood. 'We are so grateful that the vicar is a music-lover and hugely supportive,' says Meynell.
Now, instead of catching planes and trains, they travel a short distance to perform online concerts that quickly found interest far beyond Sydenham. Now, music lovers in the US, Denmark and Austria join regular subscribers to watch and hear them play on their YouTube channel. And, when the repertoire requires more musicians, they can call in other top-flight orchestral players who live around SE26. 'We are in an area teeming with musicians, but we were not doing much together before because we were all on tour most of the time,' said Norris. 'Now they love to come to play chamber music.' Concerts have included works by Mozart, Schubert, Mendelssohn, Debussy, and the songs of Peter Warlock, with soprano Luci Briginshaw. The ensemble's YouTube channel features several events, including a performance of Bruch's Eight Pieces for Clarinet, Viola and Piano, with clarinettist Sacha Rattle. Currently, Fagg and Meynell are working their way through Beethoven's 10 violin sonatas, with their next performance available on 28 February.
In 2020, life was turned upside down for Fagg, a former leader of the National Youth Orchestra. 'Since I was four I have played in an orchestra, yet I have not played in one for a whole year. All my work disappeared, which was weird. Before, I was dashing about like a crazy woman. I found that enSEmble26's fortnightly concerts gave me something to aim for. Everything this year has been self-motivated, which has been extremely rewarding.'
It's also meant that she and husband Tom have had to devise some careful scheduling to fit rehearsal around home-schooling their three children, aged eight, six and three, and to develop new skills. In the first lockdown, Norris volunteered to edit an online Pachelbel's Canon played by the LSO's second violins. 'I quickly had to learn video editing and sound editing on the computer in the kitchen. It was like a cappella on steroids, with everyone sending in their clips from home – a real baptism of fire, but I realised I could transfer those skills to the ensemble.'
"

It was like a cappella on steroids, with everyone sending in their clips from home – a real baptism of fire

"
Now with improved cameras and sound equipment, he not only plays violin but videos and edits the concerts, increasing the production values of a venture that started out using phone footage.
'Fairly early on we had to decide: is this a recording or a performance? It's an important distinction. If it is a recording it presents another layer of stress, so we decided that the camera is here to take the place of an audience. It's a warts-and-all mentality to treat it as a performance,' said Norris.
He's grateful that as an LSO co-principal he has maintained a skeletal salary (the self-governing orchestra paid its members, all self-employed, the fees they would have received for their cancelled Barbican series) but regular extras, such as his wife, saw their work disappear. And they both lost out on the government's bizarre self-employment assistance scheme which currently helps only about 50% of the orchestra. 'However, I have found some bonuses in lockdown. Normally I would be away from the family on tour for more than 30% of my time, so it has been great to be at home with them, and it has allowed me to develop my skills as a videographer and as a composer.'
The ensemble's mailing list has swelled to nearly 500 during the pandemic, with more than 100 tickets sold for their regular concerts. They employ a graded system of ticket price, averaging at £12. Meynell points out nobody knew how long the first lockdown would last, and many performers viewed online concerts as promotional material that should be provided free. Now, months later, that has changed, and audiences have come to value the work put in by musicians online and are willing to pay for excellence. 'It's not a living wage; it's a bonus, an extra. It's not an alternative to touring fees, but I would say in the next couple of years I would expect us to have a bigger turnover.'
She firmly believes that music will become more locally focused as touring becomes increasingly expensive and difficult to justify in the light of climate change. And Meynell practices what she preaches, holding regular, socially-distanced Sunday afternoon street singalongs in the first lockdown, devising online music lessons for children and volunteering to work as an assistant in a local care home. For some years, she has developed ways to help people with dementia rediscover themselves through music, but this time she wanted a nuts-and-bolts point of view of care provision, so worked alongside staffers.
'That was so useful; I could see what a need there was for music, so now I am the home's resident musician. I do both group and individual singing sessions and I think it has improved the home's atmosphere substantially.' Meynell negotiated a half fee to make it affordable for the home, but eventually will be looking for some for matching funding.
Performing in the community has been transformative for her. 'I can honestly say I feel happier now than I have ever felt in my whole life. I can make music for people who really want it and tell you how much they value it. In the concert hall we don' t get to know our audience, but now we are in close contact with people for whom it really matters.'
The local clamour for online performances from enSEmble26 was such that when they took a break in the summer, subscribers contacted them, asking for more. 'It's just a privilege to play music you love with people you love for people who love music,' said Fagg. 'And we can be home in time for News at Ten!'